1987 Buick Grand National - QWIK V6

Bone stock these cars were rated at 245 horsepower, but tests by several magazines proved they were actually closer to 275 horsepower. With minor bolt-on modifications my car is currently in the 340 horsepower range.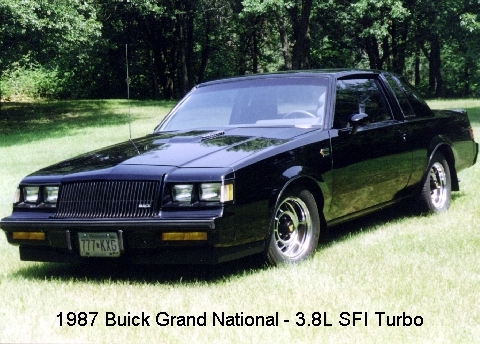 History
I purchased this car in the fall of 1995. It was completely stock except for a 237 Fuel pressure regulator that I'm guessing a dealer installed at some point when it was in for servicing because the previous owner was not a "car guy". He just liked to drive the car, he knew nothing about it.
The car was repainted at some point before I purchased it. The original laquer paint on these cars was known to go bad if it was not given alot tender loving care. The current paint is a basecoat/clearcoat finish.
Modifications
Modern Muscle Wastegate Controller to Manually Adjust the Boost From the Drivers Seat
9" K&N Cone Air Filter
2" Lowering Spindels on the Front
160 degree Thermastat
Boost, Temperature, and Tachometer Gauges
Front Brake Line Lock
Torque Converter Lockup Switch
Red Armstrong in-Tank XP Fuel Pump
10 Gauge Wire to Fuel Pump
Widened Rear Stock Steel GN Rims to 8"
275/60-15 BFG Radial TA's on Rear
36lb. Blue Top Injectors
Modern Musclecar 100 Octane Chip
Terry Houston 3" Downpipe and Test Tube
Hooker Headers 2.5" Cat Back Exhaust
Future Plans
My next upgrade will be a larger turbo. I am not completely sure which Turbo I want but I am leaning toward the TE-51 for a nice street/strip combunation. Along with the turbo I'll need a a little looser torque Converter but I'll make the decision on which on after the turbo is in so I can make a better judgement on what sort of stall speed I'll need.
Drag Racing
My best 1/4 mile time to date is 12.806 at 107.42 MPH.
That run was made on street tires and 100 octane unleaded gas with 20psi of boost.
1st Place 1997 MGNTA Club Drag Race Points Competition.
1st Place 1998 Show -n- Go at Brainerd International Raceway (Late Model 6 Cyl. Turbo - race class).
Car Shows
1st Place 1996 Show -n- Go at Brainerd International Raceway (1964 & newer - show class).
3rd Place 1998 World of Wheels Show, St. Paul River Center (Current Custom Conservative Hardtop).
1st Place 1999 Muscle car Shootout at Brainerd International Raceway (PSAX/G race class).
3rd Place 2001 World of Wheels Show, St. Paul River Center (Late Model Something-er-other class).
Related Sites
Grand National WEB Site
GM G-Body WEB Site
MN Grand National & T-type Association Coming Soon!
Joe's Parts I often have a few items for sale.
E-Mail

Visitors since October 16th 1999